Main content starts here, tab to start navigating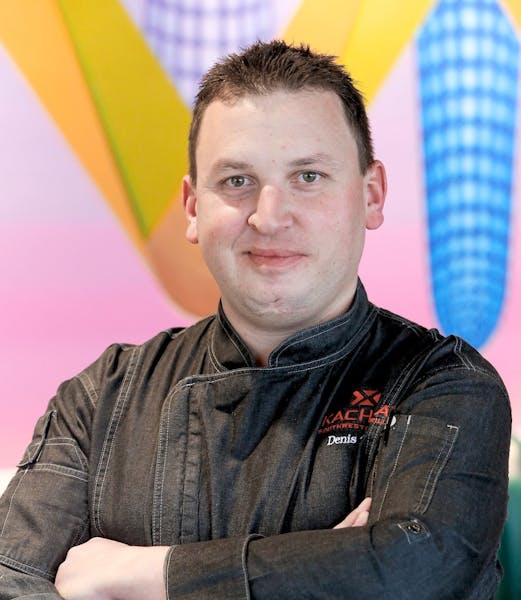 Denis Zvekic
Executive Chef
European chef Denis Zvekic celebrated a decade of service with Sage Restaurant Concepts (SRC) by joining Kachina Cantina in Denver, CO, as its executive chef. With a propensity for fiery cooking and local ingredients, he guides the kitchen excited to explore Baja Mexico and Southwestern cuisine with fresh, authentic flavors. "Food should be approachable, simple, and showcase the quality of the ingredients as well as a chef's skill in working with those elements," Zvekic says. "And, cooking should not be ego-driven—we find balance in what our guests are looking for and present the product without pretension."
This culinary camaraderie extends to Zvekic's kitchen, in which he mentors the cooks and chefs he works alongside. "I focus on being a supportive leader who taps into potential and guides people to the next level in their development," he explains. "Support is important, because we all depend on the success of others to be successful ourselves."
Zvekic learned the importance of fresh ingredients while growing up on his family farm in Mostar, Bosnia. Rich access to quality ingredients taught Zvekic to utilize every aspect of the food his family grew, while also presenting an honest approach to its preparation. In 1991, to escape the civil war in then-Yugoslavia, his family moved to the island of Sardinia, which exposed Zvekic to authentic Italian cuisine including handmade pasta and freshly caught fish.
These memories fueled ambition when Zvekic arrived in Denver at the age of 16, beginning his career as a dishwasher at the Italian fine dining Tuscany Restaurant and quickly rising to line cook. Zvekic developed his cooking and knife skills while in this position and simultaneously attended the American Culinary Federation to earn his degree in 2003. As he moved up the ranks to executive sous chef, the supportive and empowering environment sparked experimentation in the young chef, in addition to a deep appreciation for the team-oriented atmosphere.
Moving laterally to Second Home Kitchen + Bar, another SRG concept in Denver, in 2008, Zvekic focused on seasonality and local purveyors, developing programs including Fresh Catch, Shepherd to Chef in-house butchering, and a weekly showcase of local producers. Mastering all styles of cooking—especially BBQ, charcuterie, and sausage making—in the dynamic kitchen, Zvekic also shined as a leader, earning the "Manager of the Quarter" award four times over.
In the summer of 2011, SRG tasked him with revamping a Todd English concept, DaCampo Osteria at Il Lugano in Ft. Lauderdale, FL. Zvekic not only developed a new menu of original dishes focused on housemade pasta and high-quality seafood, he trained staff, improved kitchen efficiency, and comprehensively set up the restaurant for success. He returned to Second Home after two months in Florida, eventually rising to the executive chef role in 2017, before departing for Kachina in 2018.
When not leading his team of cooks or experimenting with Southwestern cuisine, Zvekic can often be found exploring Colorado's landscape by bike, foot, or snowboard. On the weekends, he inevitably sneaks back into the kitchen to prepare a large Sunday feast for his family. Charitably, Zvekic supports Tennyson Center for Children, AMP the Cause, and RAFT.